2020 Harley-Davidson Sportster Iron 883 in Taylor, MI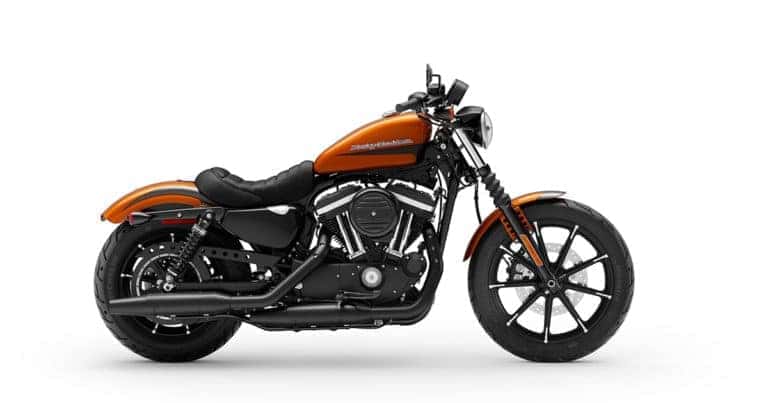 Welcome to the 2020 Harley-Davidson Sportster Iron 883. This cut-and-dry, ain't-broke-don't-fix-it Harley is a bike designed to take city life to the next level. Its affordability doesn't reflect its style, as it has plenty of that to go around. Here's a quick guide to the new Iron 883 to help you decide whether or not it's the bike that can reignite your sense of adventure:
Paint Options
The 2020 Harley-Davidson Sportster Iron 883 comes in four factory paint options: Black Denim, Barracuda Silver Denim, River Rock Gray, and Scorched Orange/Silver Flux. Harley-Davidson created the colors to fit the city style, giving each bike a tough atmosphere that looks great. Contrasted against the black-out engine and exhaust pipes, the Sportster Iron 883 is a ride worthy of any street. The machined 9-spoke wheels are also blacked out to continue the Iron 883's tough atmosphere.
Regardless of your paint choices, what you're left with is a drag-inspired bike that looks as tough as it feels ready to take on boulevards in unforgiving style.
Styling
The 2020 Sportster Iron 883 has a low tuck-and-roll seat and slammed suspension system for the front and rear wheels that give the bike a low-riding, tough style. These features also make it easier for newer riders to tackle the streets with ease. The handlebar shoots back for a drag-strip-inspired feel that gives the bike an aggressive feel. From the relaxed, low-hanging feel as you take to its bobber-inspired saddle to the responsive driving personality that lends itself to pushing through side streets and avenues, the Iron 883 is a dynamic bike for those aiming to take back the city.
This bike is 545 pounds heavy when shipped and 564 pounds when in running order. It has a 25.7-inch laden seat height and a 5.5-inch ground clearance. The Iron 882 is 86 inches long and has a 59.6-inch wheelbase.
Per usual, the 2020 Sportster Iron 883 can be mixed-and-matched with customizable parts to allow you to build the best motorcycle for your riding style. An important part of the Harley-Davidson experience is the levels of customizability they offer with most of their bikes. Whether you ride yours as-is from the shop or build your perfect bike, the Iron 883 is sure to satisfy.
Engine
When you ride the new Iron 883, one of the first things you might notice is the amount of care Harley-Davidson took to deliver a smooth-riding bike that has enough power to let you take on the busy city streets in style.
The new Sportster Iron 883 is equipped with an 883cc air-cooled Evolution engine that delivers 53.8 pound-feet of torque. Its 3-inch bore helps the 3.811-stroke engine achieve a 53.9-cubic-foot displacement and a 9:01 compression ratio. The gas tank has a 3.3-gallon fuel capacity and a 51-mpg fuel economy.
The 2020 Harley-Davidson Sportster Iron 883 is a great bike for those just entering the motorcycle world and for those looking for a city joyrider. Either way, the affordable Sportster Iron 883 is a worthy addition to any driveway.