Stop the Spread of COVID-19
UPDATED 9/11/2020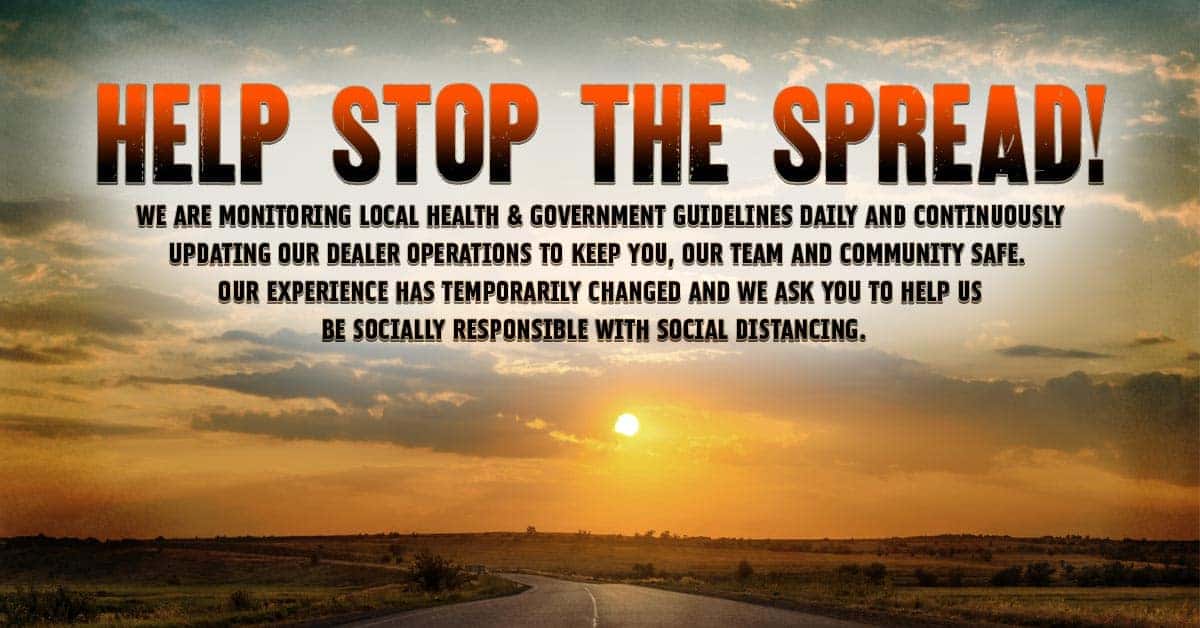 Planning a visit to our dealership? While we have re-opened, our experience has temporarily changed and we ask you to help us be socially responsible during this period of social distancing to help stop the spread of COVID-19 in an effort to flatten the curve.
---
Visit with a purpose
Normally we love being the place to hang out, chat up friends and escape the worries of the world. At this time, we would like to limit "browsing" visits and ask that you refrain from using us as a meetup location to limit discretionary travel and gatherings. Contact us by email, phone or webchat ahead of your visit so we can prep whatever you need in order to make your visit safe and efficient.
While visiting, please try to keep at least a 6′ distance between yourself, our team members and other customers.
Pardon us as we have instructed our team to not shake hands, fist bump, high five, etc.
We also ask that you do not lean on the cashier counters and if possible, we have alternate methods of payment now available such as ApplePay or PayPal when available.
Masks / bandannas /face coverings are appreciated.
Please note that we will be operating under a reduced maximum building capacity and outdoor gatherings are limited to less than 100 guests which may temporarily limit some of our previously planned events. We appreciate your patience if we hit capacity and you have to wait for entry upon arrival.
Dedicated Shopping Hours for Vulnerable Guests:
We know some customers may be more vulnerable to the coronavirus and to better support them, we are offering special shopping hours. Temporarily, we will host and hour-long shopping event every Monday & Thursday. Additionally, we will do our best to accommodate requests for special appointment times or deliveries/pickups:
MONDAYS: 9AM-10AM
THURSDAYS: 9AM-10AM
Be a good shopper
Wash your hands frequently. Avoid touching your face. Sneeze or cough into a tissue or the inside of your elbow.
While shopping, if you would like to touch any items for sale, please ask for a shot of hand sanitizer or wash your hands before and after touching any products. This protects you, our team and other customers.
Demo Rides
If you would like to demo a bike, please bring your own helmet, eye protection, gloves and wear long pants. We are not offering loaner gear at this time.
MotorClothes Dept
At this time, we ask that you do not try on apparel, or riding gear, or accessories including but not limited to helmets, gloves, shirts, etc. We cannot accept any returns at this time. We appreciate your understanding.
Utilize Curbside
Just need one part or a pair of shatterproof shades before you head out on a solo ride? Dropping off or picking up your bike? Call ahead and set up an easy curbside experience and you can skip coming inside! Arrange what you need with our crew, then give us a call when you're outside and we'll get you taken care of. We can take payment via PayPal to keep your information safe and secure.
Stay home if you are sick
If you are sick or someone in your household is sick, stay home. We have also instructed our team members to stay home if they feel unwell, are uncomfortable working at this time or need to stay home with children who are out of school and do not have childcare. We're doing our best to take care of our team and customers and ask you for your help to keep everyone safe.
---